LMA Guides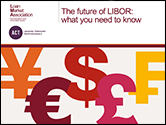 LMA and ACT Guide - The future of LIBOR: what you need to know (second edition)
September 2018
We have updated our joint guide with the ACT on LIBOR benchmark reform entitled "The future of LIBOR: What you need to know". The Guide is intended to provide an overview of developments and key issues with respect to the proposed transition away from LIBOR benchmarks to near risk-free rates ("RFRs"). We hope that this Guide provides a useful resource for members and have made it available in both pdf and powerpoint format should members wish to use the materials for presentation purposes (whether internally or to clients).
Download PDF
Download Powerpoint
An Agent's Guide to Handling Ancillary Facilities
February 2018
This guide seeks to provide an introduction to ancillary facilities and their treatment in LMA facility documentation together with guidance on common operational scenarios.
Download PDF
Improving Liquidity in the Secondary Market
May 2017
A robust, liquid secondary loan market is an important ingredient for the health of the syndicated loan market as a whole. With this in mind, this guide is intended to assist market participants and their advisors who are involved in the origination and execution of syndicated loans in the primary market, by highlighting certain issues which have the potential to impact liquidity in the secondary market.
Download PDF
Guide to Secondary Loan Market Transactions
March 2017
The aim of this guide is to provide an overview of the role of the secondary market in the syndicated loan market, identifying, amongst other things, participants active in the secondary loan market, the types of debt available, a typical anatomy of a trade and the different transfer mechanisms.
Download PDF
Guide to Agency Protections
March 2017
The purpose of this guide is to provide an overview of the principal protections provided in an LMA facility agreement, and assist agents, arrangers, lenders and those agreeing loan documentation to identify the standard protections that an agent under a loan agreement would expect to benefit from.

Download PDF
Dealing with Requests for Amendments
December 2016
During the life of a loan, changes to the parties' positions, regulation and/or the market may cause parties to revisit the terms of the loan agreement. The purpose of this guide is to provide recommendations for best practice for dealing with amendments to the loan agreement, from both a pragmatic and legal standpoint.
Download PDF
Schuldscheindarlehen – LMA Leitfaden
August 2016
Was sind Schuldscheindarlehen und wie funktionieren sie? Diese und andere Fragen sollen in diesem Leitfaden beantwortet werden. Er wendet sich an Personen, die mit dem Produkt Schuldscheindarlehen weniger vertraut sind, insbesondere an ausländische Darlehensnehmer und Darlehensgeber/Investoren. Der vorliegende Leitfaden enthält neben einer Darstellung der gegenwärtigen Marktlage eine Zusammenfassung der rechtlichen Rahmenbedingungen und Besonderheiten dieses Produktes,
Download PDF
Schuldscheindarlehen – LMA Product Guide: English Translation
August 2016
What are Schuldscheindarlehen and how do they work? This LMA Product Guide seeks to address these questions and more. It is aimed at persons less familiar with Schuldscheindarlehen, in particular the international borrower and lender/investor. The Guide provides current market perspectives, outlines the legal framework and summarises legal nuances particular to the product.
Please note: the contents of this Guide were drafted in German; the English translation is provided for convenience.
Download PDF
Guide to Syndicated Loans & Leveraged Finance Transactions
October 2013
The aim of this paper is to provide guidance on syndicated loan transactions and leveraged finance transactions, identifying, amongst other things, the types of facilities commonly seen in the loan market, the parties to a typical loan agreement and common methods used by lenders to transfer loan participations.
Download PDF