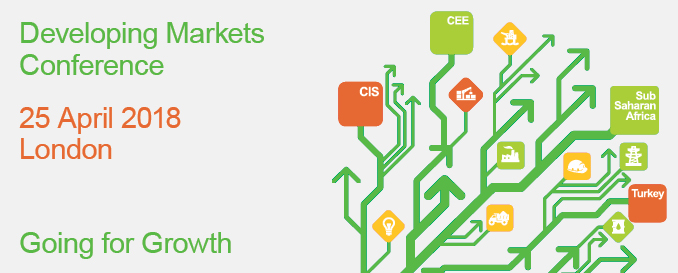 Developing Markets Conference
Developing Markets Conference
25 April 2018
ETC venues, 155 Bishopsgate, London
---
This was the LMA's fifth annual Developing Markets Conference in London, which attracted an audience of over 230 delegates. Speaking were some of the most senior and experienced professionals working in this market.
Despite recent market volatility, developing markets continue to offer attractive investment opportunities. This conference offered an ideal forum for our members active in developing market jurisdictions to listen to discussions on key current trends and issues to be considered when lending into these markets. The programme focused on developing markets in CEE/CIS, Turkey and Sub-Saharan Africa. As in previous years, the conference agenda comprised a plenary morning with the afternoon split into two breakout sessions; one focusing on CEE/CIS and Turkey and the other Sub-Saharan Africa.
The panels and presentations covered a wide range of topical issues, including the general outlook for the developing markets, predictions for foreign investment flows, commodity price volatility, ECA financing and the impact of fintech and disruptive technology. In the breakout sessions, speakers gave economic updates for the applicable regions, and discussed recent syndicated loan market trends in each of Sub-Saharan Africa (including Francophone and Lusophone Africa), CEE/CIS and Turkey.

Click here to read a write-up of the conference
Click here to view a SnapShot interview with Nick Tostivin and Wildu du Plessis, Partners at Baker McKenzie on the outlook for Developing Markets
Click here to view the results of the LMA's 2018 Developing Markets Survey
Click here to view the conference presentations
Video Session Clips
Video - Syndicated lending to developing markets: seeking out the hot spots
Video - Syndicated lending: what next for Africa's traditional economic powerhouses?